Ever since the microwave became a kitchen mainstay, millions of people in the U.S. and elsewhere, perhaps including you, have been using it to heat a cup of water for tea, coffee, or hot chocolate. And when heating water for multiple cups, my guess is many people reach for the stovetop kettle. I've done both, but not anymore.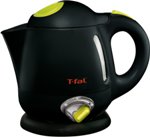 These days I use my handy-dandy electric kettle.
If you don't have one, let me say that it is a fabulous small appliance for the kitchen and anywhere else you're likely to want to make a hot beverage. A friend of mine keeps one at her desk at the office, and has another in the kitchen at home.
What does an electric kettle have to do with British TV? It's a prop in a lot of shows, used by major and minor characters alike in moving story lines forward. For example, in a scene in "The Falls" episode of Rebus, the character played by Natalie Dormer (The Tudors, Game of Thrones) picks up the kettle to make tea. Sounds pretty mundane, I know, but it's a device that moves the plot along. (And there's more to this particular scene than her boiling water.)
Even when an electric kettle isn't being used in a kitchen scene, there's probably one on the counter of the set. Note the white one behind Hyacinth (Patricia Routledge) in Keeping Up Appearances starting at the 10:31 mark in the video below.
After having seen electric kettles in British TV shows for so many years, it's a wonder that I didn't get one before last year. But then again, I saw them without noticing them, just as I had heard various characters say "I'll put the kettle on" without registering it. Until I did. And then I bought one soon thereafter.
In the real world, UK native and celebrity chef Jaime Oliver says a kettle (meaning an electric one) is a must-have in the kitchen, because it's such a time saver.
I use my electric kettle every day and think it's great. It's a cordless, automatic shut-off model that works like a charm, heating water to boiling in less time than the microwave or the stove. If you don't have one and would like to get one, the folks at America's Test Kitchen tested many models and recommend these two: the Zojirushi Micom Water Boiler and Warmer and the Chef's Choice 688 SmartKettle.
Have a great weekend!
—————————