NBC has set the US premiere date for Season 3 of the hit Canadian medical drama. (Yay!)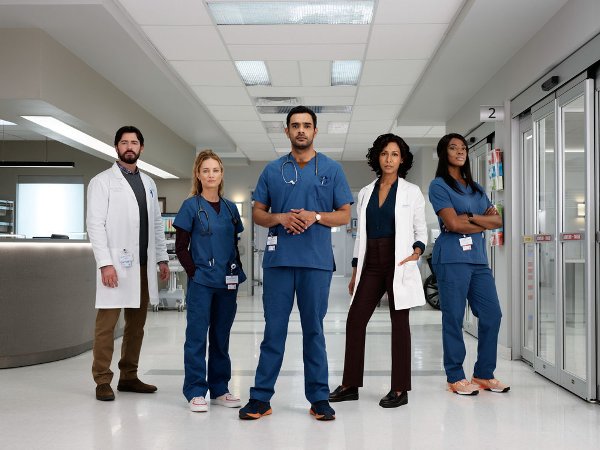 One of the best dramas on telly these days, Canadian medical drama Transplant returns in a few short weeks with its third season. Hooray!
Continuing on from Season 2, the new season of Transplant finds Bashir "Bash" Hamed (Hamza Haq, My Salinger Year, The Indian Detective), a talented doctor who fled his native, war-torn country of Syria to make a new life in Canada, continuing his journey to start over. But with each new milestone comes a new challenge. As Bash pursues Canadian citizenship for himself and his younger sister, Amira (Sirena Gulamgaus, Orphan Black), he closely examines who he's becoming in his adopted country.
And while Bash is still being asked repeatedly to prove himself, he and his colleagues — including Dr. Magalie "Mags" LeBlanc (Laurence Leboeuf, 19-2), Dr. June Curtis (Ayisha Issa, Workin' Moms), Dr. Theo Hunter (Jim Watson, Designated Survivor), head nurse Claire Malone (Torri Higginson, Dark Matter), and Dr. Mark Novak (Gord Rand, Orphan Black) — continue to find themselves looking to adapt to change and understand how they fit in, both within and beyond the walls of York Memorial Hospital.
After Dr. Bishop's (John Hannah) shocking departure, the team gains a new boss with the forward-thinking Dr. Neeta Devi (Rekha Sharma, Yellowjackets), who has big ideas when it comes to overhauling the hospital's emergency department.
Transplant: Season 3 premieres in the US on Thursday, October 12, at 9 PM ET/OT, on NBC.
A production of Sphere Media in association with CTV and Universal International Studios, a division of Universal Studio Group, the series is created, showrun, and executive produced by Joseph Kay (Ransom). Rachel Langer, Josée Vallée, Jocelyn Deschênes, Bruno Dubé, and Stefan Pleszczynski also executive produce.
__________________
As an affiliate of Amazon and other cos, affiliate links on this blog allow us to earn income from qualifying actions (at no extra cost to you).

Transplant: NBC Sets Premiere Date for Season 3 of Hit Canadian Medical Drama