Acorn TV announced today the premiere date for Mrs Sidhu Investigates, the streaming service's latest Original mystery series. Check out the trailer!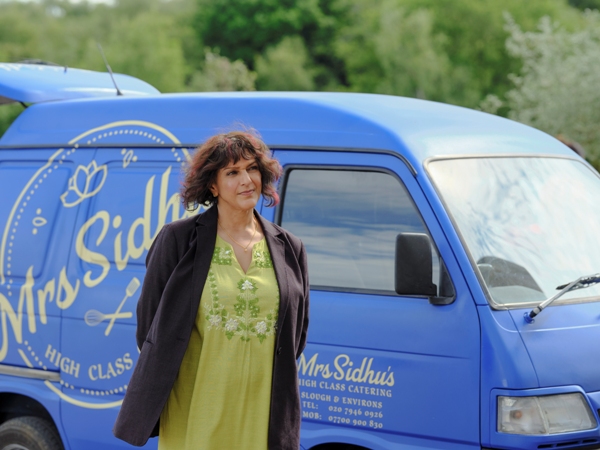 Based on the popular BBC Radio 4 series of the same name, Mrs Sidhu Investigates stars BAFTA nominee Meera Syal (The Kumars at No. 42, The Split, The Devil's Hour) as Mrs. Sidhu, a high-end caterer with a taste for crime. (Syal also voiced the eponymous character for the radio show.) Costarring alongside her is Craig Parkinson (Line of Duty, Grace, Doctor Who) as the world-weary DCI Burton. Together, Mrs. Sidhu and DCI Burton form an unofficial partnership solving crimes in the affluent county of Berkshire.
Recently widowed, Mrs. Sidhu (Syal) juggles her new catering business with encouraging her wayward son, Tez (Gurjeet Singh, Ackley Bridge), to find his passion, all while serving up a helping of justice to those who believe they are above the law. Her forays into sleuthing see her form an unofficial partnership with Detective Chief Inspector Burton (Parkinson), a long-suffering divorcee who reluctantly accepts that, together, they're an unbeatable crime-fighting duo, much to the bemusement of his partner, DS Mint (Naana Agyei-Ampadu, Industry).
Mrs Sidhu Investigates premieres Monday, September 18, exclusively on Acorn TV, with new episodes dropping weekly on Mondays through October 9.
Here's a glimpse at what you can look forward to:
Episode 1 — Premieres Monday, September 18
Mrs. Sidhu's first day catering for Sharpetone, a high-end health club, takes a turn of the unexpected when two bodies are found dead in the spa. When her niece, Rani, becomes the police's number one suspect, Mrs. Sidhu starts her own investigation to prove them wrong. This brings her into conflict with DCI Burton, who is heading the case and has no patience for Mrs. Sidhu's theories — except her inquiries lead to the uncovering of business secrets, feuds between colleagues, and well-hidden love affairs.
Episode 2 — Premieres Monday, September 25
While Mrs. Sidhu and Tez are doing the catering for the convention of hit fantasy TV show Swordmaster, life imitates art and things go from fantasy to reality very quickly when one of the lead cast is found dead in the woods, killed the same way a character was murdered on the show. When the Melville family, the show's writers-creators, ask Mrs. Sidhu to stay on and cook for them while they grieve, she can't help but find suspicious clues — and reunite with Chief Inspector Burton. His theories of who the killer is don't match up with hers, and his reluctance to hear her out leaves her no choice but to start her own investigation and prove him wrong.
Episode 3 — Premieres Monday, October 2
Mrs. Sidhu is asked to be an in-house caterer for Appenda, a software company located in Berkshire's renowned technology hub. But the company's sterling reputation is threatened, and Mrs. Sidhu's interest is piqued, when Appenda's CEO is found dead, strangled at his desk the night he signed a deal to sell the company. Mrs. Sidhu has Chief Inspector Burton's ear on the case, and together they work to crack it, determined to catch the murderer before they make their next kill. Meanwhile, Tez gets himself into trouble with a young entrepreneur.
Episode 4 — Premieres Monday, October 9
Boxing fanatic Tez is thrilled about Mrs. Sidhu's latest catering gig at a major boxing championship match, located in the garden of a luxe Berkshire manor. But when an up-and-coming boxer is kidnapped and held for ransom, Mrs. Sidhu finds herself at the heart of another investigation. Cracks begin to show in the boxer's team as the pressure builds to find the money to free him and bring him home. With Burton involved in a life-threatening accident, Mrs. Sidhu enlists Mint's help to find the kidnappers and rescue the boxer from impending death.
Mrs Sidhu Investigates is created and written by Suk Pannu, with Vivienne Harvey (Harlots) writing two episodes and Meera Syal providing additional material. The series is directed by Steve Barron (The Durrells in Corfu) and Ben Kellett (Death in Paradise). Jane Wallbank (Traces) serves as producer. Executive producers include Catherine Mackin and Bea Tammer for Acorn Media Enterprises; Jane Wallbank, Alison Owen, Debra Hayward, and Alison Carpenter for Monumental Television; Gordon Kennedy for Absolutely Productions, and Steve Barron. Meera Syal and Suk Pannu are also executive producers.
__________________
As an affiliate of Amazon and other cos, affiliate links on this blog allow us to earn income from qualifying actions (at no extra cost to you).

Mrs Sidhu Investigates: Acorn TV Sets Premiere Date for New Mystery Series