Netflix has set the global streaming premiere date for Scrooge: A Christmas Carol, the animated holiday musical featuring top British acting talent. Check out the trailer!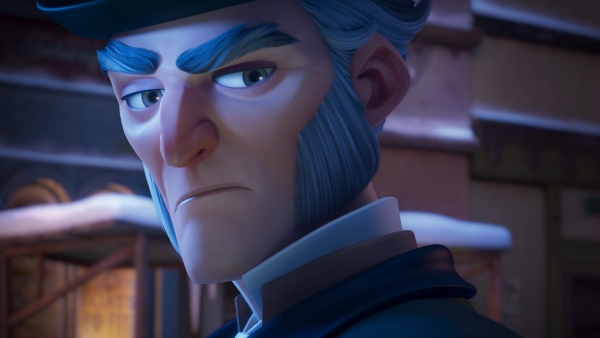 Well, wouldn't you know it? Watching the trailer for Scrooge: A Christmas Carol just put me in the holiday spirit, when I can be a bit bah humbug about holiday anything before Thanksgiving. (Especially stuff like Christmas in July.) But I digress…
You've probably watched at least one television or feature film adaptation of Charles Dickens's classic story A Christmas Carol. You might have even read the novella. Either way, it's a good bet that you're familiar with the redemption story of one Ebenezer Scrooge.
Scrooge, an utterly mean-spirited miser, has but one Christmas Eve left to face his past, build a better future, and save his eternal soul. Thanks to the work of three spirits (after his long-dead business partner, Jacob Marley, gives him a heads-up about them), Scrooge has a change of heart about Christmas and charity toward his fellow man, and it's happily ever after for everyone.
But you haven't seen this adaptation, at least not yet!
Scrooge: A Christmas Carol, a Netflix Film, has its global streaming premiere on Friday, December 2, exclusively on Netflix. (You can set a reminder for it now.) The film has its theatrical release in select US cinemas on November 18.
This supernatural, time-traveling, musical adaptation of one of the most popular Christmas stories around features the voice talents of Luke Evans (Beauty and the Beast) as Scrooge, Olivia Colman (The Crown) as the Ghost of Christmas Past, Jessie Buckley (Chernobyl) as Isabel, Johnny Flynn (Stardust) as Bob Cratchit, Jonathan Pryce (The Crown) as Jacob Marley, James Cosmo (His Dark Materials) as Mr. Fezziwig, and Trevor Dion Nicholas (Aladdin: Live from the West End) as the Ghost of Christmas Present.
A production of Timeless Films in association with Axis Studios, the film is directed by Stephen Donnelly (Monster High: Welcome to Monster High) and features songs from two-time Academy Award® winner Leslie Bricusse OBE (Victor/Victoria, Doctor Dolittle).
__________________
As an affiliate of Amazon and other cos, affiliate links on this blog allow us to earn income from qualifying actions (at no extra cost to you).

Scrooge: A Christmas Carol: Netflix Sets Streaming Premiere for Animated Holiday Musical