Lucy Worsley Investigates, another eye-opening docuseries presented by the popular British historian, comes to a close this Sunday with "The Witch Hunts."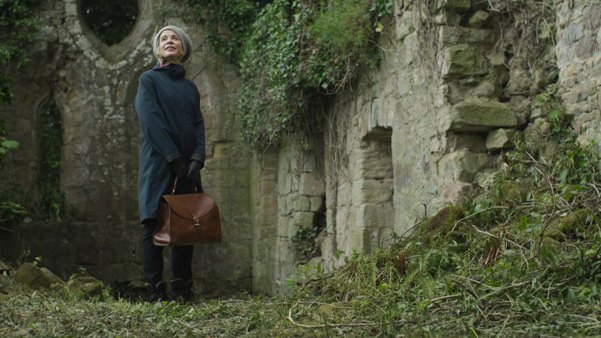 With Lucy Worsley Investigates, Lucy Worsley added the unofficial job title of detective to her official ones, including Chief Curator at Historic Royal Palaces in the UK, historian, author (Jane Austen at Home, A Very British Murder), and television presenter (Lucy Worsley's 12 Days of Tudor Christmas, Lucy Worsley's Royal Palace Secrets). (She is also an appointed Officer of the Order of the British Empire for her services to history and heritage, although OBE isn't a title, but an award.)
In the fist three episodes of Lucy Worsley Investigates, Lucy delved into the centuries-old mystery of "The Princes in the Tower," the mental illness that caused the "Madness of King George," and the devastating plague of 1348 known as "The Black Death."
The docuseries concludes this weekend with "The Witch Hunts," which takes a harrowing look at the events that sparked a craze for witch hunts across Britain and America more than 400 years ago. Over the course of the hour-long episode, Lucy examines how the upheaval of the Reformation, the ambitions of the King, and a suspicion of women in authority and female sexuality set the stage for these brutal killings.
An extraordinary story that Lucy uncovers is that of Agnes Sampson, a midwife and folk healer from rural Scotland who unwittingly (and unwillingly) got caught up in King James's determination to prove himself a just and godly king and figurehead of the Reformation: she was accused of being a witch.
Although Christianity and a belief in the supernatural had co-existed for centuries, the new puritanical Christianity of John Knox, the founder of the Presbyterian Church of Scotland, began targeting women who had an exalted role in society — women such as Agnes. Agnes's trial and execution lit the fuse for the state-sanctioned torture and murder of thousands more like her across Britain, as well as in America  during the Salem Witch Trials.
In the  exclusive clip below, Lucy learns about "witch prickers" — men who purchased large pins with which they would stab women suspected of being witches in order "to find the devil's mark" on their bodies. If any of the numerous stabbings on these women's now shaved and naked bodies — a process that could go on for hours (and in some cases prove fatal), which Lucy describes as "psycho-sexual torture" — resulted in what the men deemed to be unusual, it was evidence that "you had convened with the devil." In effect, a witch.
Lucy Worsley Investigates: The Witch Hunts premieres in the US this Sunday, October 2, from 8:00-9:00 PM ET on PBS (check your local listings), with streaming available on all station-branded PBS platforms, including PBS.org and the PBS Video app, as well as on the PBS Masterpiece Prime Video Channel.
__________________
As an affiliate of Amazon and other companies, ads & affiliate links on this blog allow us to earn income from qualifying actions and purchases (at no extra cost to you).

Share this post/page.

Lucy Worsley Investigates: Exclusive Clip from Final Episode "The Witch Hunts"