Netflix has set the global premiere date (outside the UK) for the courtroom drama miniseries You Don't Know Me. Check out the official trailer.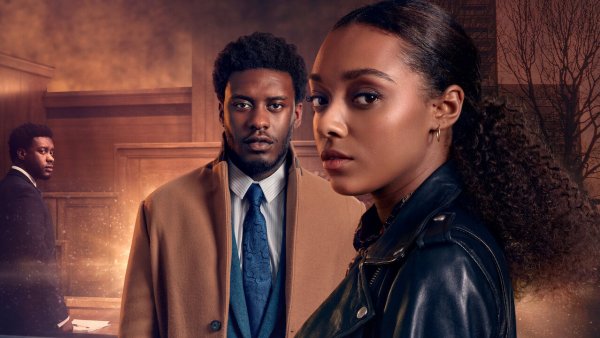 You Don't Know Me, adapted from the eponymous bestselling novel by author and former barrister Imran Mahmood, is a four-part miniseries about a man on trial for murder — but with a twist.
The story is told by its hero, an unnamed, 20-something man (Samuel Adewunmi, Angela Black, The Watch) who, until recently, had a rather uneventful life. He was working as a salesman in a car showroom, living in his own flat, and providing for his mum and sister as best he could. Now he stands in the dock, accused of murder. All of the evidence points to his guilt, and it seems to be an open and shut case — but is it?
Representing himself after firing his barrister, he tells his story during his closing argument. It's a story about the things in his life, the people he loves, and the loss he's experienced. Mostly it's a love story, one in which he falls in love with a mysterious young woman named Kyra (Sophie Wilde, Eden, Tom Jones). But when Kyra disappears, he goes searching for her and ends up embroiled in London's underworld.
You Don't Know Me, a Netflix Original, premieres globally (outside the UK) on Friday, June 17, exclusively on Netflix. (You can set a reminder for it now.)
The miniseries costars Bukky Bakray (Liaison), Roger Jean Nsengiyumva (Informer), Tuwaine Barrett (Silent Witness), Yetunde Oduwole (The Larkins), and Nicholas Khan (Grace).
A project of Snowed-In Productions for the BBC in association with Netflix, You Don't Know Me is written by Tom Edge (Vigil, C.B. Strike) and directed by Sarmad Masud (Bulletproof, Ackley Bridge).
__________________
As an affiliate of Amazon and other companies, ads & affiliate links on this blog allow us to earn income from qualifying actions and purchases (at no extra cost to you).

Share this post/page.

You Don't Know Me: Netflix Sets Premiere Date for Courtroom Drama Miniseries