BritBox US has set the stateside premiere date for the first season of The Responder, the streamer's new Original series starring Martin Freeman.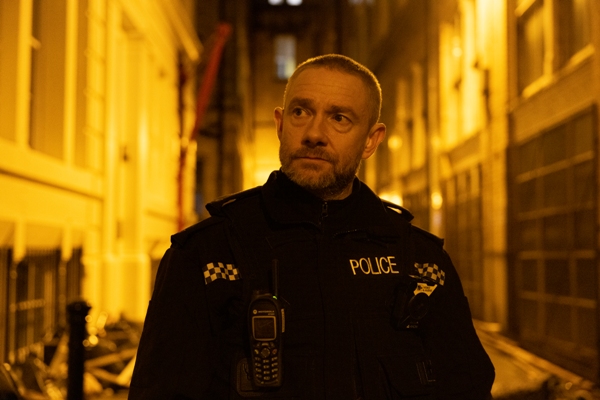 Inspired by the real-life experiences of author and screenwriter Tony Schumacher, a former police officer, this new police procedural series offers a rare glimpse into the heart of society's dark and gritty underbelly.
Night after night, Chris Carson (Martin Freeman, A Confession, The Hobbit film trilogy) drives a frontline response vehicle in his fragmented home town of Liverpool, where he faces crime, violence, and addiction on the streets. All the while, he is battling personal demons that threaten to destabilize his work, his marriage, and his mental health.
When Chris is forced to take on new rookie partner Rachel Hargreaves (Adelayo Adedayo, The Capture), both soon discover that survival in this relentless, high-pressure twilight world depends on them either helping or destroying each other.
Over one week of increasingly tense, life-changing night shifts, with Chris in the depths of helplessness and despair and with his family slipping away from him, he clings to the idea of saving the life of a young addict trapped in a deadly dilemma. If he can save her, maybe he can save himself and rediscover what it means to be a police officer.
Renewed for a second season, The Responder: Season 1, a BritBox Original, premieres in the US on Tuesday, May 24, exclusively on BritBox.
Costars include Warren Brown (Strike Back), MyAnna Buring (Ripper Street), Emily Fairn, Ian Hart (The Last Kingdom), Philip Shaun McGuinness (The Alienist), and Mark Womack (Moving On).
__________________
As an affiliate of Amazon and other companies, ads & affiliate links on this blog allow us to earn income from qualifying actions and purchases (at no extra cost to you).

Share this post/page.

The Responder: BritBox Sets US Premiere Date for Martin Freeman Drama