HBO Max has set the US premiere date for the second season of its lovely Max Original comedy series Starstruck. Check out the trailer.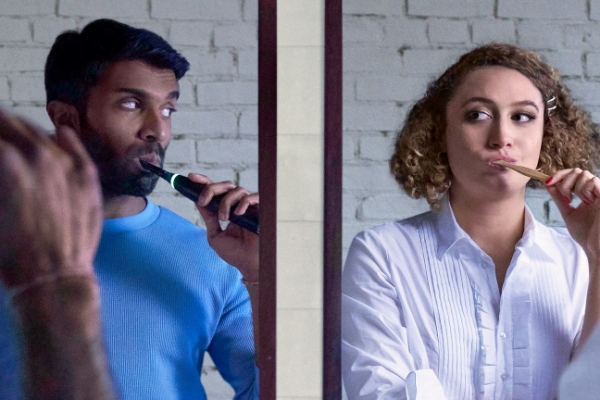 Created, co-written by, and starring Rose Matafeo (W1A), romantic comedy series Starstruck follows Jessie (Matafeo), a 20-something millennial juggling two dead-end jobs in London. In Season 1, Jessie must navigate the awkward morning after the night before when she discovers the complications of accidentally sleeping with famous film star Tom (Nikesh Patel, Indian Summers).
After her grand gesture in the Season 1 finale, the new season finds Jessie having to deal with the real-world consequences of deciding to stay and pursue a relationship with Tom, rather than sticking to her original plan of returning home to New Zealand.
All six episodes of Starstruck: Season 2 will launch in the US on HBO Max on Thursday, March 24.
In addition to Rose Matafeo and Nikesh Patel, the cast includes Emma Sidi (W1A), Joe Barnes (The Neighbour), Al Roberts (Stath Lets Flats), Ambreen Razia (This Way Up), Alice Snedden (Educators), Lola-Rose Maxwell (Doctors), Nic Sampson (The Brokenwood Mysteries), Edward Easton (Porters), Parth Thakerar (Brassic), Jordan Stephens (Feel Good), Minnie Driver (Speechless), and Russell Tovey (Years and Years).
A production of Avalon Television (Breeders, Last Week Tonight With John Oliver), the series is co-written by Rose Matafeo, Alice Snedden, and Nic Sampson, produced by Claire McCarthy, and executive produced by Rose Matafeo, Jon Thoday, Richard Allen-Turner, Rob Aslett, and Toby Welch
__________________
As an affiliate of Amazon and other companies, ads & affiliate links on this blog allow us to earn income from qualifying actions and purchases (at no extra cost to you).

Starstruck: HBO Max Announces US Premiere Date for Season 2 of Lovely Comedy Series