Help, the 2021 Rose d'Or Award winner for Best Drama, offers a devastating look at the early days of the coronavirus pandemic through the experiences of a care home worker.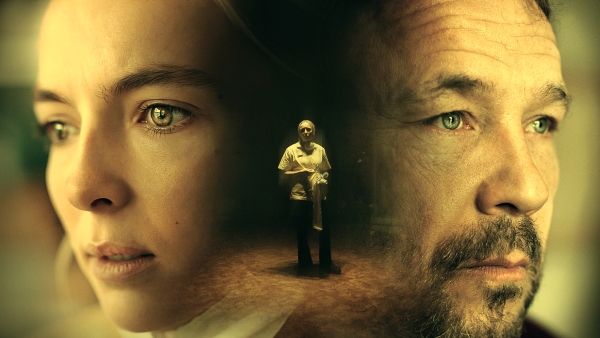 COVID-19 is likely in the top 3 of everyone's list of things we wish would just go away already. But please don't let (non-medical) coronavirus fatigue dissuade you from watching Help. It is a powerful, dare I say unmissable, telefilm.
The feature-length TV movie stars Jodie Comer (Killing Eve, Doctor Foster) as Sarah, a 20-something woman who we meet as she's practicing in her car for an interview at Bright Sky Care Home in Liverpool. The manager isn't impressed by her credentials (rather, the lack thereof), and she isn't keen on his seeming predisposition against her, either. Yet he offers her the job of care worker and, ultimately, she accepts.
Sarah starts on the night shift, and her first evening on the job is an eventful one. Tony (Stephen Graham, The North Water, Line of Duty), a 40-something resident suffering from young onset dementia, has gone walkabout, and she must go with her boss to find him.
This is sometime during October/November 2019, and over the next few months, Sarah does well in her job. She likes it and she's good at it. And despite Tony's moments of confusion and aggression, Sarah develops a bond with him — sharing stories and having a laugh while playing cards and the like. Sarah seems to have found her calling.
Every bit of Sarah's experience and sense of responsibility, duty, and humanity are brought to bear in a big way starting March 5, 2020. People across the UK are becoming ill and dying from the coronavirus, and overrun hospitals are moving certain patients to care homes, including Bright Sky. While the place might have room, its operations are ill-equipped and its staff is ill-prepared to handle what comes next.
Masks and other personal protective equipment and cleaning supplies cannot be obtained. Family members cannot enter the care home to visit their loved ones. Residents and staff members get ill. Some die. During one particularly harrowing night, Sarah is the lone carer at work. And help does not come.
While Tony hasn't shown any coronavirus symptoms, Sarah knows it's probably just a matter of time if he remains at Bright Sky. She also knows it's up to her if her friend is to have any chance…
Help is about so much more than the story of a care worker at the start of the pandemic. It points to failures in the UK government; to the seeming disregard for those within the social care sector; and to the need for the industry to pay care workers a living wage.
Stephen Graham is terrific as Tony, as is Ian Hart (The Terror, The Last Kingdom) as Steve, the care home manager. And Jodie Comer is outstanding as Sarah — playing her with such a deep honesty that I wept for her, got scared for her, and hoped things would go her way.
Written by multi-award winner Jack Thorne (National Treasure, Enola Holmes) and directed by Marc Munden (The Third Day, The Secret Garden), the telefilm costars Lesley Sharp (Scott & Bailey), Sue Johnston (Waking the Dead), David Hayman (Trial & Retribution), Cathy Tyson (Whitstable Pearl), and Angela Griffin (Brief Encounters).
Help premieres in the US tomorrow, Monday, January 31, 2022, exclusively on Acorn TV.
__________________
As an affiliate of Amazon and other companies, ads & affiliate links on this blog allow us to earn income from qualifying actions and purchases (at no extra cost to you).

Help: Devastating Jodie Comer-Stephen Graham Drama Set for US Premiere