The new season of Queens of Mystery will soon be arriving in the US and Canada. Check out an exclusive clip from the first two-part story, "Sparring with Death."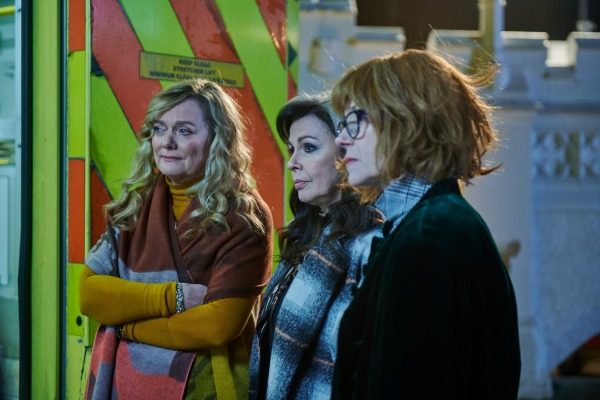 The titular sleuths, aka the sisterly trio of Beth (Sarah Woodward, Professor T), Cat (Julie Graham, The Bletchley Circle), and Jane Stone (Siobhan Redmond, Taggart), along with their 28-year-old niece, DS Matilda "Mattie" Stone (Florence Hall, The Princess Switch 3), will be gracing our screens once again in a couple of weeks — when Season 2 of Acorn Original series Queens of Mystery premieres on this side of the pond.
The new season consists of three two-part murder mysteries, of which "Sparring with Death" is the first.
At Wildemarsh Wellness Retreat, Dr. Angela Isherwood (Sara Stewart, Unforgotten) announces the staff member who will succeed her as director of the wellness center. Her appointment comes as a shock to those who expected to be named her successor but weren't, and quickly exposes the hatred that has been bubbling beneath the surface of the smiley company.
Soon thereafter there is a murder. As Matilda investigates, she finds several people who have distinctly ill intentions toward each other. The case gets a bit more complicated with a second death, and Mattie's inquiries ultimately lead her to uncover a heart-wrenching tragedy that has been waiting to be avenged.
Guest stars include Sarah Hadland (Miranda), Kevin Harvey (Time), Nick Fletcher (Father Brown), and Paul Bradley (Grantchester), amongst others. Returning cast members include Martin Trenaman (Quiz) as Inspector Thorne, Andrew Leung (Flack) as Dr Daniel Lynch, and Michael Elcock (The Grey Tarmac Road) as PC Terry Foster.
Both episodes of "Sparring with Death" will screen back-to-back when Queens of Mystery: Season 2 premieres in the US and Canada on Monday, January 10, exclusively on Acorn TV.
They are followed by the premieres of the back-to-back episodes of "The Modern Art of Murder" on January 17 and "The Raven" on January 24.
__________________
As an affiliate of Amazon and other companies, ads & affiliate links on this blog allow us to earn income from qualifying actions and purchases (at no extra cost to you).

Share this post/page.

Queens of Mystery: Exclusive Clip from New Season of Popular Mystery Series