Ovation TV announced today the US premiere date for Season 4 of the hit Canadian period mystery series Frankie Drake Mysteries.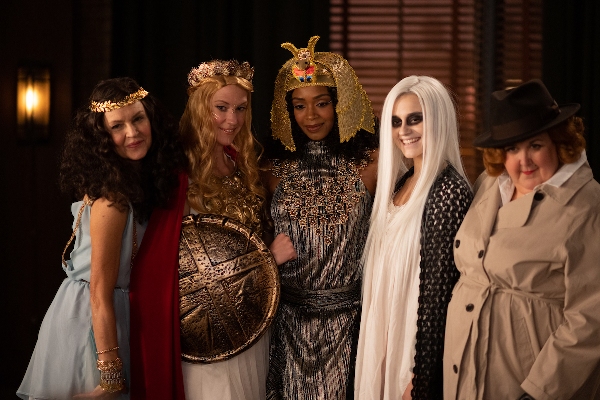 Set in 1920s Toronto, Frankie Drake Mysteries follows the adventures of Frankie Drake (Lauren Lee Smith) and her business partner, Trudy Clarke (Chantel Riley), at Drake Private Detectives, the city's only all-female detective agency, as they find themselves fighting crime in the age of flyboys, gangsters, rumrunners, and speakeasies.
Ovation TV will launch Season 4 of Frankie Drake Mysteries during the network's Mystery Alley programming block on Saturday, October 2, at 7 PM ET / 4pm PT.
Additionally, the Frankie Drake Mysteries: Music at Midnight concert special will premiere on Ovation TV a week earlier, on Saturday, September 25, at 7 PM ET. Co-produced by Ovation, The Toronto Symphony Orchestra (TSO), and Shaftesbury Films, the special features performances by series stars Chantel Riley and Sharron Matthews alongside series composer Robert Carli and the TSO, and gives fans of the series the opportunity to see and hear something different and unexpected. The socially-distant concert event was filmed on the set of Frankie Drake Mysteries, adhering to the strict COVID protocols of the time.
Last but not least, Ovation TV has produced a series of custom interstitials featuring the ladies of Drake Detective Agency getting candid about the evolution of their respective characters. From Frankie confronting her fractured relationship with her father, to Trudy solidifying her independence, each of the women offer a more intimate look at their character's lives. Each premiere episode will feature an on-air, 30-second behind-the-scenes look, with a longer-form vignette available on demand on the Ovation NOW app. The cast also discusses the fabulous fashion that the series showcases, and how the costume design helps serve as a form of expression and freedom for the fearless foursome.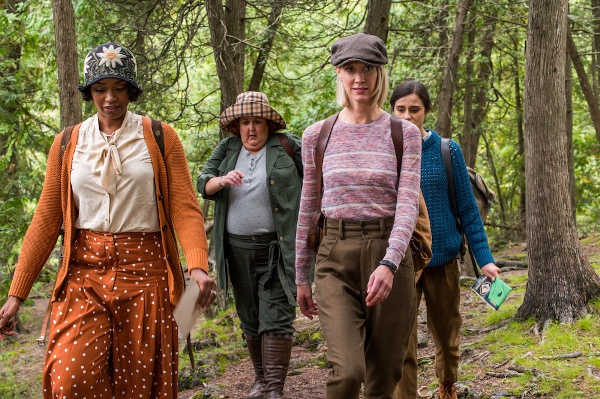 For folks who want to catch up on the series before the Season 4 premiere, Ovation TV will host a Frankie Drake Mysteries marathon on Labor Day, Monday, September 6, with Season 2 starting at 8 AM ET, followed by Season 3 starting at 6 PM ET.
Season 4 opens with the intrepid detectives and their best gal pals, morality officer Mary Shaw (Rebecca Liddiard) and morgue attendant Flo Chakowitz (Sharron Matthews), traipsing through the woods on a scavenger hunt that quickly turns deadly. Throughout the season, as Frankie and Trudy investigate murders, kidnappings, heists and poisonings, Mary and Flo lend assistance — the former by snooping through police files and listening in on non-civilian discussions, and the latter by providing details from autopsy reports, conducting science experiments, and putting her newly-acquired medical skills to work.
Although busy with their professional lives, filled with high-stakes danger, excitement, intrigue, and friendship, the team also finds time for personal pursuits. This season, Frankie has a European race car-driving beau, Trudy's dreams for a home, sweet home are closer than ever, Mary falls for the wrong fella, and Flo starts a family.
Season 4 episodes will air on Ovation TV at 7 PM ET / 4 PM PT on the dates below.
"Scavenger Hunt" (October 2) — Wile the gals are on a spirited scavenger hunt, a player is murdered, and they need to figure out if it's case of killing off the competition or something more personal.
"Prince in Exile" (October 9) — When a playboy prince is kidnapped, the team has to be discreet while they investigate in order to avoid an international incident.
"The Girls Can't Help It" (October 16) — Frankie and Trudy cross paths with a trio of flappers and head into an illegal auction as they investigate the theft of a priceless bottle of wine.
"A Most Foiled Assault" (October 23) — When the coach of Canada's first female fencing team is murdered and a fencer is wrongly arrested, Frankie and Trudy are tasked with finding the real killer.
"Ghost in the Machine" (October 30) — Convinced she was visited by the ghost of a murdered woman; Frankie's mother, Nora (Wendy Crewson), makes Frankie and Trudy search their building, leading to a shocking discovery.
"The Guilty Party" (November 6) — A man acquitted of a grisly murder is still a suspect, and the clock is ticking as the team investigate whether or not he is the guilty party.
"Life Is a Cabaret" (November 13) — After witnessing a man's murder, Frankie's search for his lady-friend suspect leads her to an underground cabaret and surprising results.
"Sweet Justice" (November 20) — When Trudy discovers that her new dream home has contaminated water, the gals investigate the source with help from nighttime vigilante Lady Justice.
"Showstoppers" (November 27) — Mary looks into a morality violation by a modern dance troupe, and Frankie questions if they've brought the Spanish Flu to Toronto.
"A Family Affair" (December 4) — Shakeups in the gals' lives see Frankie's dad alive but in danger, Trudy leave Drake Private Detectives, Mary going on the record, and Flo's new family threatened.
In addition to airing on Ovation TV, the episodes will be available on demand and on the Ovation NOW app the day after their broadcast premieres.
__________________
As an affiliate of Amazon and other companies, ads & affiliate links on this blog allow us to earn income from qualifying actions and purchases (at no extra cost to you).

Share this post/page.

Frankie Drake Mysteries: Ovation TV Sets Hit Drama's Season 4 US Premiere Date