It's time to put noir stuff aside for a bit and bask in the sun-filled, Spain-set whodunits in the new season of The Mallorca Files. And we have an exclusive clip for you!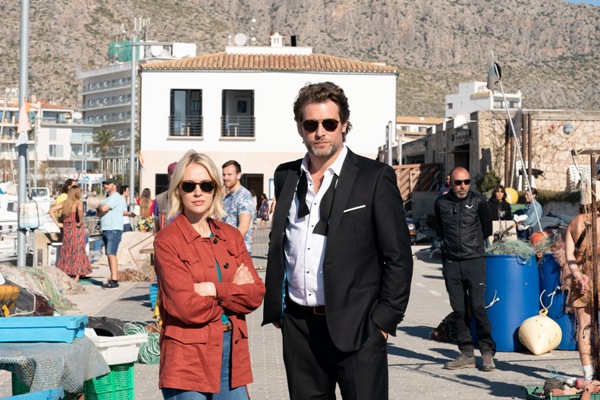 They're baaack! They, of course, are Miranda Blake (Elen Rhys, Ordinary Lies) and Max Winter (Julian Looman, Pagan Peak) — mismatched detectives from the UK and Germany, respectively, who get paired up to help the local Palma Police investigate crimes on the Balearic island of Mallorca.
The Season 2 opener finds the introverted, no-nonsense Miranda hasn't really loosened up after being on the sun-and-fun-drenched Mallorca for a while, whereas the extroverted, happy-go-lucky Max continues to soak up and enjoy life to the fullest. But the place is having an effect on her in a different way: Miranda is looking to put down roots on Mallorca.
That Miranda is with Max at an opera performance — not on a date — is, well, a surprise. But then you realize that everyone who's anyone on Mallorca, including their boss Inés (María Fernández Ache, Holby City) and Max's girlfriend Carmen (Tábata Cerezo, The Night Manager), is there. It's also convenient, as soon after the show ends, a dead body is discovered. The victim is none other than the famous tenor who had just performed. And he isn't the only person to be found lifeless. As Max and Miranda investigate, they learn that a long list of women could have wanted the man dead, so which amongst them, if any, did the dastardly deed?
Miranda and Max get a bit of a history lesson about the Spanish Civil War when they investigate the disappearance of the scion of an influential Mallorcan family — while they're being followed by a man in a rumply suit and a hat. Another case the detective duo are assigned to involves a star football player for Réal Mallorca — the object of fans' obsessions, the recipient of a new contract offer from a rival team, and the target of threats.
Poison is the suspected cause of a British food critic's death at a Michelin-starred restaurant. Could a bad review have been the motive for murder? Foodie Max and protein-bar-eating Miranda aim to find out. Soon thereafter, they are tasked with finding a "twitcher" (a bird-watcher who travels long distances to see rare birds) reported missing by his wife — racing against the clock to find the man, lest he die from not having his medicine. The pair's final case this season concerns credit card fraud at a ranch, which gets complicated by a murder that no one saw coming.
Here's an exclusive clip from the new season:
Once again, The Mallorca Files makes for wonderful escapist fare. Its episodes, filmed entirely on Mallorca, offer up some breathtaking views of the island — from the serpentine roads through the mountains, to the quiet, pristine beauty of a nature reserve — in the second season.
There are some cool guest stars, too, including Kacey Ainsworth (Grantchester), Phil Daniels (EastEnders), Craig Kelly (Coronation Street), and Josette Simon (Small Axe).
Joining the regular cast in Season 2 is Alex Hafner (Cable Girls), who plays forensic pathologist Roberto Herrero, the mentor to forensic assistant Luisa Rosa, a recurring character played by Nansi Nsue (Thorne: Sleepyhead).
Like many other series, production on the second season of The Mallorca Files was halted due to the coronavirus pandemic, which resulted in the truncated six-episode season instead of ten. Assuming the series gets renewed for a third season, then it's possible (likely?) that the remaining four stories will be a part of Season 3. Stay tuned for updates about this.
In the meantime, get ready for Season 2.
The Mallorca Files: Season 2, a BritBox Original series, premieres in North America tomorrow, Tuesday, March 2, exclusively on BritBox and its digital channels, including BritBox on Amazon.
__________________
As an affiliate of Amazon and other companies, ads & affiliate links on this blog allow us to earn income from qualifying actions and purchases (at no extra cost to you).

Share this post/page.

The Mallorca Files: Season 2 of Light Mystery Drama Is Fun-Filled Viewing + Exclusive Clip