Acorn TV and ZDF announced today their commission of UK drama The Chelsea Detective with Acorn Media Enterprises from Expectation.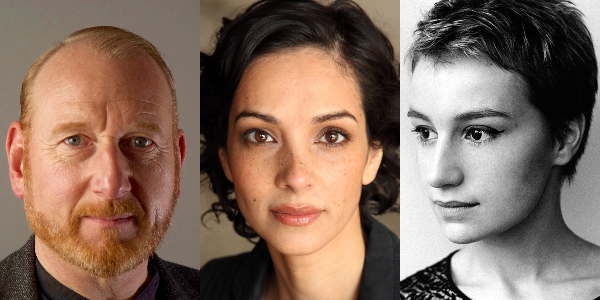 The Chelsea Detective stars Adrian Scarborough (Gavin & Stacey, Killing Eve) as Detective Inspector Max Arnold, the son of a local bookshop owner. Although born and bred in Chelsea, Max is a far cry from the affluent elite whose crimes he'll help solve. Recently separated from his art dealer wife Astrid (Anamaria Marinca, The Politician's Husband, The Last Enemy), he currently lives on a battered houseboat at the end of Cheyne Walk, but hopes to move back into their apartment in nearby Cadogan Square one day.
In the series' four feature-length episodes, Max and Streatham-born Detective Constable Priya Shamsie (Sonita Henry, Luther, Krypton) investigate a wide range of crimes, which feature a stonemasons' workshop at Brompton Cemetery, a fashionable school for international students, a family-owned Italian restaurant on the brink of expansion, and a local garden center linked to the unsavory past of Chelsea FC football hooliganism.
Said series creator and executive producer Peter Fincham:
"Working with Acorn, ZDF and BBC Studios to realise the vision for the series has been truly exciting. Chelsea is the perfect precinct for a long-running crime series – it's known for its wealth and history, but there's so much more to it than that. Our brilliant cast will be taking the viewers to unexpected places and meeting some unlikely characters"
And Catherine Mackin, Managing Director, Acorn Media Enterprises, noted:
"We're thrilled to work with ZDF, Expectation and BBC Studios on this riveting UK mystery series set in and around picturesque Chelsea as we follow this fascinating detective both on the clock during his investigations and at home on his houseboat. Acorn TV is thrilled to have Adrian Scarborough in the lead role and we're confident that our subscribers worldwide will be captivated by this charismatic drama."
Produced by Expectation (In My Skin, Guilt), the series goes into production in April 2021. The writers for the four episodes are Glen Laker (Vera, Prime Suspect), Peter Fincham, and Liz Lake (Riviera Call the Midwife). The producer is Ella Kelly (Death in Paradise, Midsomer Murders). And the directors are Richard Signy (Death in Paradise, Silent Witness) and Darcia Martin (Call the Midwife, Judge John Deed).
Acorn TV will feature the world premiere of The Chelsea Detective in the United States, Canada, United Kingdom, Australia and New Zealand, amongst other territories, in 2022. BBC Studios is distributing the series internationally.
Stay tuned for updates.
__________________
As an affiliate of Amazon and other companies, ads & affiliate links on this blog allow us to earn income from qualifying actions and purchases (at no extra cost to you).

Share this post/page.

The Chelsea Detective: Acorn TV & ZDF Commission UK Mystery Series