Good things come to those who wait. In this case, it's Season 14 of the hit Canadian period drama Murdoch Mysteries, which is set to start streaming in the US.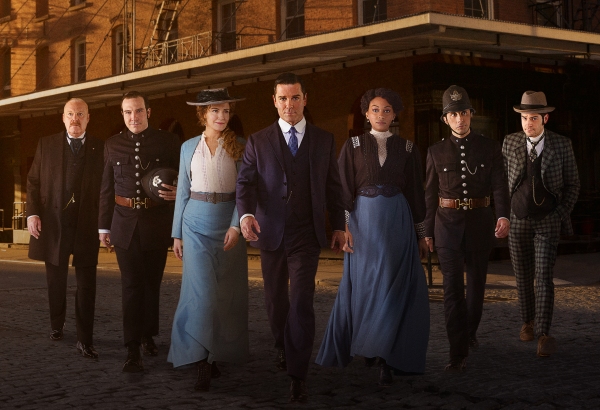 Inspired by the "Murdoch Mysteries" novels and characters created by Maureen Jennings, Season 14 of the award-winning and hugely-popular Canadian period drama Murdoch Mysteries is about to make its streaming premiere in the States.
Set in Toronto in the late 1890s/early 1900s, this cleverly-crafted whodunit series follows the methodical and dashing Detective William Murdoch (Yannick Bisson) as he and his crack team use radical forensic techniques and other new innovations, such as fingerprinting, ultraviolet lighting and trace evidence, to solve gruesome murders.
The series also explores the personal and professional developments in the  lives of Murdoch, Dr. Julia Ogden (Hélène Joy), Inspector Thomas Brackenreid (Thomas Craig), Constables George Crabtree (Jonny Harris) and Henry Higgins-Newsome (Lachlan Murdoch), and Detective Llewelyn Watts (Daniel Maslany) as they tackle Toronto's toughest mysteries — from the serious and historic, to the comical and unusual.
As Season 14 begins, Detective Murdoch continues his inventive detective work with Ogden's unflinching support, even after an investigation leads him to a family member that he never knew about. Brackenreid and Margaret's marriage, now on the mend, is tested once more, while Crabtree's relationship with Effie Newsome is threatened by a potentially volatile interloper. And family relations also loom large for Higgins, now that his wife Ruth is pregnant. Unfortunately for Watts, his secret love affair faces dangerous scrutiny, while Violet Hart's now public liaison with a wealthy playboy causes social outrage.
Murdoch Mysteries: Season 14 will have its US streaming premiere on Friday, April 2, on Acorn TV — launching with six episodes and then continuing weekly for the remaining five episodes on Mondays from April 5 through May 3. (All previous seasons of the series are currently available for streaming on Acorn TV and its digital channels, including Acorn TV on Amazon Channels.)
Go watch you some!
__________________
As an affiliate of Amazon and other companies, ads & affiliate links on this blog allow us to earn income from qualifying actions and purchases (at no extra cost to you).

Share this post/page.

Murdoch Mysteries: Season 14 of Canadian Period Drama Set for US Streaming Premiere