The award-winning Canadian period mystery series, Murdoch Mysteries, returns stateside this evening with the first episode of its brand new season.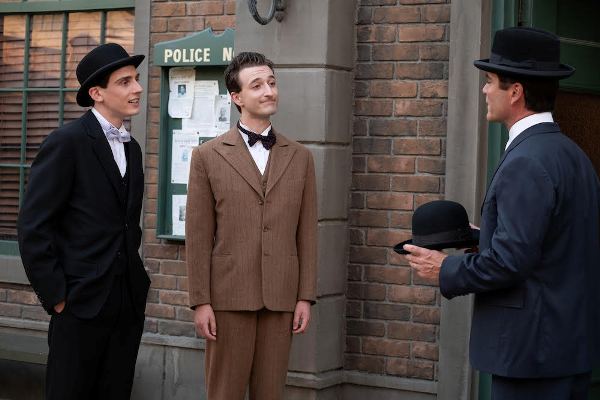 The global coronavirus pandemic didn't stop the cast and crew of Murdoch Mysteries from making Season 14 last year (although it did cause the season to be shortened, from 18 to 11 episodes). Series lead Yannick Bisson, who plays Detective William Murdoch, even got behind the camera again to direct the first two episodes — the first of which is "Murdoch and the Tramp."
Victoria Day 1908. On this unofficial start to summer in Canada, Toronto locals, including members of the Toronto Constabulary and their families, are enjoying a beautiful day and being entertained by performers at an outdoor vaudeville show. Then a naked man falls from a hotel window onto a stage, just inches from where vaudevillian and show owner Obie Stratford (Ali Hassan, Cardinal) is chatting with Murdoch and his wife Julia (Hélène Joy).
Let the investigation begin! According to City Coroner Nomi Johnston (Shailene Garnett, Diggstown), the victim was dead before he hit the stage, so Murdoch can rule out an accident. Was it suicide or murder, then? And who was the dead man, anyway?
Stepping forward to answer the question is funnyman Charlie Chaplin (Matthew Finlan, Frankie Drake Mysteries). His best friend, Stanley Laurel (newcomer Ryan Tapley), as well as others in the vaudeville show, had come across the victim, too. Who amongst them might have wanted the guy dead? That's what Murdoch aims to find out. Only his inquiries and additional clues point him in another direction: that one of the possible suspects was actually the intended target.
"Murdoch and the Tramp" is a romp of an episode, incorporating elements of vaudeville not just in the story but in the production itself. Also on the funny side are Murdoch's contraptions, especially the one that has to do with communication.
But there are serious bits, too — including Inspector Thomas Brackenreid's (Thomas Craig) fear of reprisal from a colleague with regard to his daughter, Nomi, and Constable George Crabtree's (Jonny Harris) upset over Constable Henry Higgins's (Lachlan Murdoch) happy news.
It's good, clean fun, wrapped up in a murder mystery story that features a young Buster Keaton (Alexander Elliot, The Hardy Boys) and recurring characters Detective Llewelyn Watts (Daniel Maslany) and Margaret Brackenreid (Arwen Humphreys).
Based on the characters in Maureen Jennings's popular "Murdoch Mysteries" series of novels, Murdoch Mysteries: Season 14 premieres in the US this evening, Saturday, February 20, at 7 PM ET / 4 PM PT, exclusively on Ovation TV.
New episodes will debut weekly as part of the network's "Mystery Alley" programming block on Saturday evenings, with on-demand viewing available the following day to folks with access to Ovation TV through their cable provider or via the Ovation NOW app.
For viewers who need to catch up on the show, Ovation TV has made Seasons 11, 12, and 13 available to watch for free under the "Mystery Alley" banner at https://www.ovationtv.com/watch and via on the Ovation NOW app. These seasons are available now and will stay up throughout Season 14's run.
__________________
As an affiliate of Amazon and other companies, ads & affiliate links on this blog allow us to earn income from qualifying actions and purchases (at no extra cost to you).

Share this post/page.

Murdoch Mysteries: Season 14 of Hit Canadian Series Premieres in the US Tonight