One of the most successful British mystery series will be returning to telly, as filming of the new season of Midsomer Murders has begun.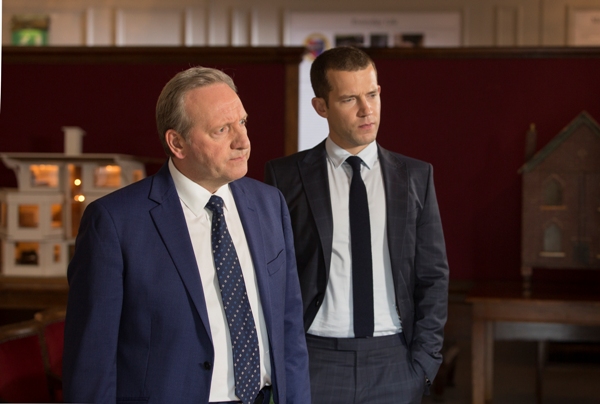 Midsomer Murders has been sold to more than 220 territories worldwide, and fans of the hit series have been eagerly awaiting Season 22. Now that filming has started, we know the wait will end in the near-ish future (as long as production isn't halted by covid-19).
Celebrating his 10th year in the role of DCI John Barnaby is Neil Dudgeon, who is joined in the new season by series regulars Nick Hendrix as DS Jamie Winter, Annette Badland as pathologist Dr Fleur Perkins, and Fiona Dolman as John's wife, Sarah Barnaby. Also returning is Paddy, the Barnaby household's canine companion.
Said Neil Dudgeon:
"Everyone is excited to get back to work. Sadly there won't be as much hugging and kissing on set as usual but we've all got to make sacrifices! It's bound to be a bit strange at first with all the safety protocols but hopefully we can all keep each other safe and shoot another great series."
Season 22 follows Barnaby and Winter as they investigate a spate of bizarre deaths in and around the middle-England county of Midsomer, including an urban myth becoming a murderous reality, a post-operative heart rehabilitation club whose members' dreams of a second chance at life are cut short, a murder mystery weekend, a twisted scarecrow festival, and an amateur dramatics company with deadly secrets.
Guest stars in the first story include Amanda Abbington (Sherlock), Mark Williams (Father Brown), and Maimie McCoy (Van Der Valk). Further guest casting will be announced in due course.
Directing the Season 22 episodes are Matt Carter (Father Brown), Roberto Bangura (Agatha Raisin), Audrey Cooke (Death in Paradise), Toby Frow (EastEnders), and Fiona Walton (London Kills). Writers include Chris Murray (Inspector Lewis), Jeff Povey (Silent Witness), Helen Jenkins (Vera), Nick Hicks-Beach (DCI Banks), and Julia Gilbert (Holby City).
Made by Bentley Productions, Midsomer Murders is produced by Carol Ann Docherty (Murphy's Law), co-produced by Ian Strachan (Agatha Raisin), and executive produced by Michele Buck (Van Der Valk).
In the US, all 21 seasons to date of Midsomer Murders are available for ad-free streaming at Acorn TV and BritBox, as well as their respective digital channels, including on Amazon Channels; earlier seasons are available at the ad-supported Ovation TV, Pluto TV (both on demand and on the Midsomer Murders live TV channel), and Tubi TV.
Stay tuned for updates about Season 22.
__________________

Outbound links on this page include non-affiliate links and affiliate links; the latter allows us to earn income from qualifying actions.
Share this post/page.

Midsomer Murders: Filming Starts on Season 22 of Hit Brit Mystery Series