Mark your 2020 calendars for the stateside debut of Vienna Blood, the mystery-crime drama set in the Austrian capital in the early 1900s.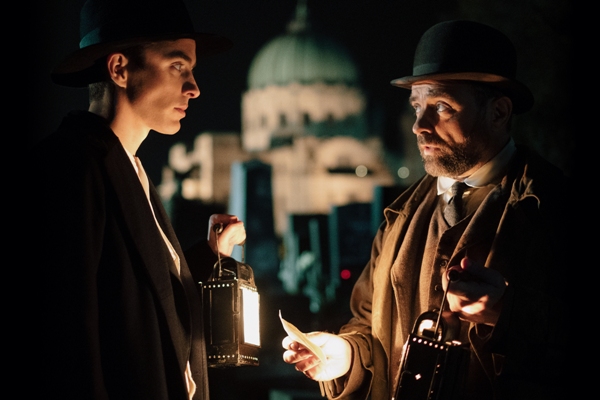 Adapted from Frank Tallis's best-selling "Liebermann" novels by acclaimed screenwriter Steve Thompson (Sherlock, Doctor Who), Vienna Blood follows a student of Sigmund Freud and an Austrian detective as they team up to solve some of the most mysterious and deadly cases in early 1900s Vienna.
Max Liebermann (Matthew Beard, Kiss Me First, The Imitation Game) is a brilliant young English doctor studying under famed psychoanalyst Sigmund Freud. Keen to understand the criminal mind, Max begins to observe Oskar Rheinhardt (Juergen Maurer, Anatomy of Evil, Perfume), a Detective Inspector in the Vienna Police, who is struggling with a perplexing case. So Max applies his extraordinary skills of perception and forensics, and his deep understanding of human behavior and deviance, to help Oskar solve his cases.
Costars in Vienna Blood include Amelia Bullmore (Scott & Bailey), Jessica De Gouw (Underground), Simon Hatzl (The Team), Conleth Hill (Game of Thrones), Charlene McKenna (Ripper Street), and Luise von Finckh (Castle Einstein).
Filmed on location in Vienna and directed by Robert Dornhelm (War and Peace) and Umut Dağ (CopStories), the series is a project of Endor Productions and MR Film for Germany's ZDF and Austria's ORF, which are also co-producers.
Vienna Blood's will air in the US as three two-part stories on Sundays, from January 19 through February 23, at 10 PM ET, on PBS, as well as stream on the PBS Masterpiece channel on Amazon and PBS Passport.
__________________
Add your comments on our Facebook and Twitter pages.
Share this post/page.

Outbound links on this page include non-affiliate links and affiliate links; the latter allows us to earn income for qualifying purchases and actions made through the links.
Vienna Blood: PBS to Premiere Austria-Set Crime Drama in the US