From the makers of Murdoch Mysteries comes this mystery series set in 1920s Toronto, Canada. And yes, there is a crossover of the two shows in an episode.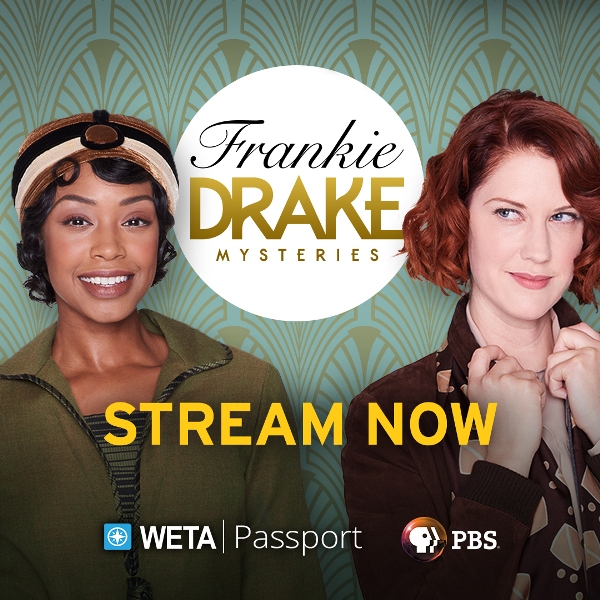 Given that the lead character is an independent woman, the time period is the 1920s, and the series is a colorful mystery drama, it's almost inevitable that Frankie Drake Mysteries would be described as the Canadian Miss Fisher's.
I get it, and the Canuck series stands on its own as a light, entertaining whodunit.
It's the Roaring '20s in Toronto, and Frankie Drake (Lauren Lee Smith, This Life, The Listener, CSI: Crime Scene Investigation) — a gun-carrying, motorcycle-riding, Chinese green tea and Turkish coffee-sipping woman ahead of her time — is the only female private detective in the city. (She's also the daughter of a now-deceased "small-time con man" who, as it turns out, was a bit more than that.)
At the Drake Detective Agency, Frankie and her partner, Trudy Clarke (Chantel Riley, Wynonna Earp, Suits), take on cases in which clients don't want the police involved or the police don't want to get involved — whether it's about a missing person, murder, home invasion, or kidnapping.
In the series opener, a priceless pearl necklace belonging to Pittsburgh businessman Abe Amory (Derek McGrath, Little Mosque on the Prairie) and his wife, Nora (Wendy Crewson, Saving Hope), is stolen from their room safe at the swanky Crown Ascot Hotel. But instead of an empty jewelry box, the thief leaves a clue: a feather. And not just any feather, either, but a drake feather… and Frankie finds herself the main suspect in the robbery. To find the real culprit, Frankie gets help from the unlikeliest of people.
The video below isn't from the series proper; rather, it's part of a six-part web-based Frankie Drake Mysteries story.
Created by Carol Hay (Murdoch Mysteries, Shoot the Messenger) and Michelle Ricci (Murdoch Mysteries, Smallville), Frankie Drake Mysteries costars Rebecca Liddiard (Alias Grace) as Morality Officer and PI-in-unofficial-training Mary Shaw and Sharron Matthews (Taken) as morgue attendant Flo Chakowitz.
Featuring in recurring roles are Grace Lynn Kung (Mary Kills People), Steve Lund (Bitten), and Karen Robinson (Schitt's Creek), and guest stars include Lucas Bryant (Haven), Laurence Fox (Inspector Lewis), and Melanie Scrofano (Wynonna Earp).
By the way, that crossover episode I mentioned — "The Pilot" — features Jonny Harris as a slightly older George Crabtree (from Murdoch Mysteries). Yay!
The first four of the eleven episodes that make up Season 1 of Frankie Drake Mysteries are currently available to stream in the US, and each of the remaining episodes will go live on successive Mondays through October 22. Here's how you can watch them:
Viewers in the DMV (District of Columbia, Maryland, Virginia) broadcast area who have PBS Passport privileges can stream Frankie Drake Mysteries on the WETA website. (If you have Passport but are in a different market, check with the PBS station that serves your area to see if they offer the series.) And viewers across the US can stream it on Prime Video, provided you have access to the PBS Masterpiece channel on Amazon.
(For folks who don't do streaming, there's the Region 1 Frankie Drake Mysteries DVD.)
Season 2 of Frankie Drake Mysteries premieres on the CBC in Canada on September 24. Stay tuned for info about when it debuts in the US.
__________________

Add your comments on our Facebook and Twitter pages.
Share this post/page.

Frankie Drake Mysteries: Light Mystery Drama from Canada Available in the US