Production has wrapped on The Bletchley Circle: San Francisco, and BritBox will premiere the new mystery series in the US next month.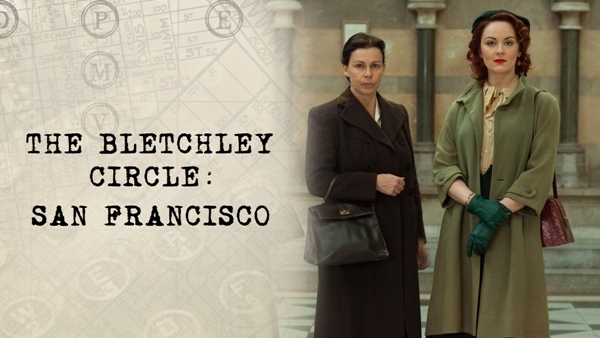 The Bletchley Circle: San Francisco, the follow-up series to The Bletchley Circle, which aired stateside on PBS, stars two of the original four cast members — Julie Graham (Shetland, Retribution) and Rachael Stirling (Detectorists, Capital) — along with new costars Crystal Balint (Mech-X4, Prison Break) and Chanelle Peloso (Sacred Lies, Supernatural).
Viewers of the original series will recall that Jean (Graham) and Millie (Stirling), former code breakers at the elite code-breaking center Bletchley Park during World War II, used their skills in post-war Britain to investigate a series of complex crimes. The new series finds them in San Francisco in 1956, three years after the Season 2 finale, to investigate the murder of a close friend.
Joining them are American code-breakers Iris (Balint) and Hailey (Peloso), who, like their British counterparts, find themselves undervalued and overlooked despite their indispensable war efforts. With renewed purpose, the code-breaking-turned-crime-solving team sets out to solve an array of mysteries in the Bay Area.
The Bletchley Circle: San Francisco consists of four stories, each of which unfolds and resolves over the course of two episodes.
Here's a first look:
Produced by BritBox, Omni Films, and World Productions, The Bletchley Circle: San Francisco, a BritBox Original series, will premiere in the US exclusively on BritBox in July.
Stay tuned for updates about the launch date.
__________________

Add your comments on our Facebook and Twitter pages.
Share this post/page.

The Bletchley Circle: San Francisco Set to Premiere on BritBox in July