Hulu has acquired the exclusive US streaming rights to the first two seasons of Letterkenny, the award-winning Canadian comedy series created by and starring Jared Keeso.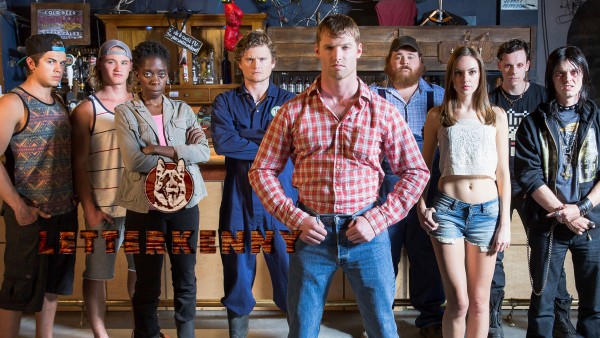 Knowing Jared Keeso only from the Canadian cop drama series 19-2, I had no idea that the actor does comedy.
What I discovered after watching the first two episodes of Letterkenny is that he's great at it — so much so that the show won for Best Comedy Series at the 2017 Canadian Screen Awards, and for Best Writing as well as Best Direction in a Comedy Program or Series at the 2018 ceremony.
Based on Keeso's web series Letterkenny Problems and set in the (fictional) rural Ontario town of Letterkenny, the half-hour comedy revolves around the dust-ups that Wayne (Keeso) and his buds, aka the Hicks, get into with their small-town rivals, the Skids (local drug addicts) and the Hockey Players (hockey players), about the most mundane things, often ending with someone getting their butt kicked.
For example: Wayne's status as the toughest guy in Letterkenny. Fisticuffs follow. Butts get kicked.
Anyhoo, Wayne runs a small farm and produce stand with his free-spirited younger sister Katy (Michelle Mylett, Ascension), who's in a polyamorous relationship with two Hockey Players. The siblings are helped by Wayne's best friend Daryl (Nathan Dales, The Indian Detective), often found eating a cup of yogurt or with a bag of Ruffles® potato chips, and "Squirrelly" Dan (K. Trevor Wilson, Man Seeking Woman), a man who is willing to do and has done things most other folks would take a pass on.
Those two Hockey Players, they're Reilly (Dylan Playfair, Travelers) and "Jonesy" (Andrew Herr, Story of a Girl), a duo reminiscent of Beavis and Butt-Head, only with athletic builds. As for Skids Stewart (Tyler Johnston, Shut Eye) and Roald (Evan Stern, The Strain), they dance when they're high.
Lest you think that Letterkenny is full of crass and juvenile humor, I can assure you that you are correct and that there is more to it — and the sum total is brilliant, laugh-out-loud stuff.
For example: the scene that runs from the 05:17 to 07:00 mark in Episode 2. All I'll say here is that it's about a certain part of the male anatomy (and not the one that comes to mind first), the dialogue is actually quite smart, and it had me doubled over from cracking up.
Produced by New Metric Media in partnership with DHX Media and Playfun Games, this CraveTV Original series features Jacob Tierney (Slings and Arrows), Lisa Codrington (Schitt's Creek), Alexander De Jordy (19-2), Mark Forward (Fargo), Joel Gagne (Shadowhunters: The Mortal Instruments), Dan Petronijevic (19-2), Kamilla Kowal (The New Romantic), and Kaniehtiio Horn (Hemlock Grove).
Seasons 1 and 2 of Letterkenny premiere in the US on Friday, July 13, exclusively on Hulu.
For Canadian viewers, the brand new season of Letterkenny launches Friday, June 29, exclusively on CraveTV.
__________________

Add your comments on our Facebook and Twitter pages.
Share this post/page.

Letterkenny: Hulu Picks Up Hilarious Jared Keeso Canadian Comedy Series