For stateside viewers who fancy Stephen Dillane, Essie Davis, Australian programs, shows about the Irish, biopics, and/or epic historical dramas, Kings in Grass Castles is for you.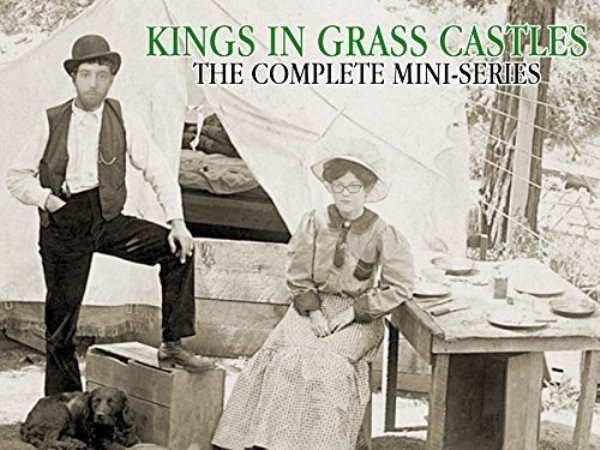 Kings in Grass Castles is an Australian historical drama that chronicles the tumultuous settlement in colonial Australia of three generations of a pioneering immigrant Irish family. It is based on the bestselling memoirs of Dame Mary Durack, granddaughter of Patrick "Patsy" Durack, the patriarch and lead character in the two-part miniseries.
Years of starvation and disease from the Great Potato Famine have taken their toll on millions of Irish men, women, and children, including the Duracks, poor and struggling tenant farmers in County Clare, Ireland. So in 1853, 18-year-old Patsy Durack (Stephen Dillane, Game of Thrones, John Adams, The Cazalets, who won the 1998 Australian Film Institute Award for Best Actor in a lead drama role for his portrayal), pulls up stakes from the Emerald Isle and emigrates to Australia with his family in search of a better life.
Little does Patsy realize, though, that he is leaving one harsh land for another.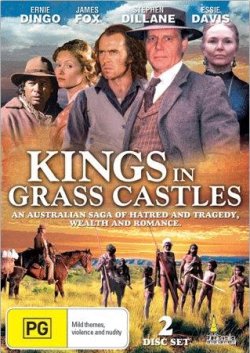 Tragedy strikes the the Duracks within two months of their settling in the Goulburn district of New South Wales. Under constant duress and intent on improving his family's lot in life, Patsy leaves and heads further south, to the Ovens River diggings in Victoria, from which he returns 18 months later with £1000. With this capital, he buys a small holding near Mummel, moves his family, and starts to enlarge their assets.
And so begins the Durack pastoral empire.
Pasty marries Mary Costello (Essie Davis, Miss Fisher's Murder Mysteries, The Slap) in 1862, and despite drought conditions establishes in 1868 the Thylungra and Kyabra cattle and horse stations in Queensland with the Costellos.
Through the 1870s and early 1880s, Patsy continues to enlarge his family's holdings and wealth through acquiring and selling land, purchasing properties, including a butchery and hotels, setting up sheep stations, and expanding from Queensland into the Kimberley district of Western Australia.
But Patsy's story doesn't end so well. He and Mary retire in 1885, but several years later his empire collapses during the depression of the 1890s, and Mary dies of malaria in 1893. He dies five years later, almost to the day.
While the focus of Kings in Grass Castles is Patsy Durack's life, interwoven in the drama is the story of Australia's indigenous people, who suffer hardships, discrimination, and removal from their native lands with the arrival of settlers. Durack's relationship with them — including locals Jimmy (Ernie Dingo, Serangoon Road) and Burrakin (David Ngoombujarra, Australia) — is one of fondness and friendship. However, as the Duracks' fortunes grow, the Irish immigrants become as much oppressors and dispossessors to the indigenous people as the English to the Irish in Ireland.
Written by Tony Morphett (A Place to Call Home, Serangoon Road) and directed by John Woods (Lovejoy, Inspector Alleyn Mysteries), Kings in Grass Castles costars Max Cullen (My Brilliant Career), Fionnula Flanagan (Lost), James Fox (Sherlock Holmes), Susan Lynch (Monroe), Peter McDonald (Moone Boy), and Maggie Steed (Pie in the Sky).
Kings in Grass Castles is now available for streaming in the US at Amazon Video.
__________________
Add your comments on our Facebook, Google+, and Twitter pages.
Share this post/page.

Kings in Grass Castles: Australian Historical Drama Starring Stephen Dillane Now Streaming