English actor Rowan Atkinson is now filming the first of two "Maigret" films for ITV, starring as the fictional French detective Jules Maigret.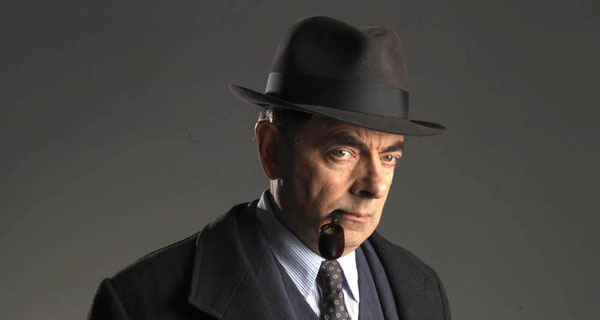 Rowan Atkinson (Mr Bean, Blackadder, The Thin Blue Line) is currently in Budapest, Hungary, filming Maigret Sets a Trap, one of the 75 novels by Belgian author Georges Simenon that features Commissaire Jules Maigret of the Paris Police.
Set in 1950s Paris, Maigret Sets a Trap centers on the detective's plan to catch a serial killer who has murdered five women in the Montmartre district.
The two-hour film costars Fiona Shaw (Harry Potter, True Blood), Aiden McArdle (Mr Selfridge, Garrow's Law), Shaun Dingwall (Above Suspicion, Touching Evil), Lucy Cohu (Broadchurch, Ripper Street), Leo Starr (Call The Midwife, Inspector Lewis), Rufus Wright (Miranda, Foyle's War), Hugh Simon (The Mill, MI-5), David Dawson (Ripper Street, Peaky Blinders), Colin Mace (Call the Midwife, Foyle's War), and Rebecca Night (Starlings, Lark Rise to Candleford).
Following completion of filming for Maigret Sets a Trap, Atkinson moves on to the production for the second adaptation, Maigret's Dead Man.
Both "Maigret" films were commissioned by ITV Director of Drama Steve November and ITV Controller of Drama Victoria Fea, and are produced by Ealing Studios and Maigret Productions Ltd.
The "Maigret" adaptations are written by Stewart Harcourt (Agatha Christie's Marple, Agatha Christie's Poirot) and produced by Jeremy Gwilt (Foyle's War, Home Fires). The Executive Producers are Barnaby Thompson (Dorian Gray, St. Trinian's) and Ben Latham-Jones (The D Train, A Midsummer Nights Dream) for Ealing Studios, John Simenon and Paul Aggett for Maigret Productions, and Stewart Harcourt.
BBC Worldwide is the international partner for "Maigret" and will oversee the global rights for the series in all territories outside the UK.
__________________
Add your comments on our Facebook, Google+, and Twitter pages.
Share this post/page.

Rowan Atkinson Begins Filming New 'Maigret' Drama