With a hooey here and a hooey there, the hit Britcom Blandings (featuring pig in residence The Empress) will be making its way to local public TV stations this month.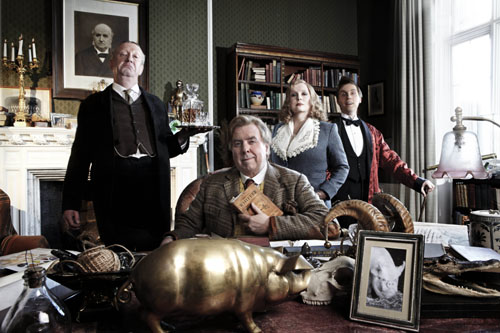 The period comedy Blandings, adapted from the "Blandings" novels by P.G. Wodehouse,
has been streaming in the US at Acorn TV, and soon it will be coming to broadcast TV.
Featuring over-the-top characters and plotlines about plans that go awry, Blandings
revolves around the goings-on at Blandings Castle, home of the absent-minded yet pleasant and put-upon Clarence Threepwood, the 9th Earl of Emsworth (Timothy Spall, The Street, The Syndicate), whose prized pig, The Empress, is his pride and joy.
Clarence's regular putter-upon-ers include Lady Constance "Connie" Keeble (Jennifer Saunders, Absolutely Fabulous, Clatterford), his domineering sister, and the Honourable Frederick "Freddie" Threepwood (Jack Farthing, Pramface, Silk), his feckless son. Were it not for the helping (and often tipsy) hand of Beach the butler (Series 1: Mark Williams, Harry Potter; Series 2: Tim Vine, Not Going Out), Clarence would likely be more deeply muddled in messes, whether they involve his rivalry with fellow fat-pig owner Sir Gregory Parsloe-Parsloe (Robert Bathhurst, Downton Abbey) or houseguest the Duke of Dunstable (Harry Enfield, Skins) pelting people with eggs to protest whistling.
Guest stars in this hoot of a show include many familiar faces from British TV, such as Ruby Bentall (Lark Rise to Candleford), Ron Donachie (Game of Thrones), James Fleet (The Vicar of Dibley), Jessica Hynes (Twenty Twelve), Celia Imrie (Kingdom), Sylvestra Le Touzel (Secret State), Julian Rhind-Tutt (The Hour), and David Walliams (Little Britain), amongst others.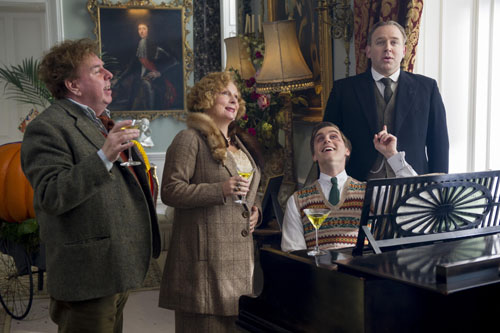 The following stations are confirmed for airing both Series 1
and Series 2
of Blandings. For program schedules, check your local listings or contact the station serving your area via the logo links below. Additional stations will be added in future updates of this post.
| STATE | CITY | STATION |
| --- | --- | --- |
| DISTRICT OF COLUMBIA | Washington, DC | |
| LOUISIANA | Alexandria, Baton Rouge, Lafayette, Lake Charles, Monroe, Shreveport | |
| TEXAS | Dallas | |
__________________
Add your comments on our Facebook, Google+, and Twitter pages.
P.G. Wodehouse-Based Britcom Blandings Coming to Local Public TV Stations [UPDATED]