Chouette! as they say en français, maybe even on the island of Guadeloupe. The BBC has announced the line-up of guest stars for the third series of Death in Paradise, and there are quite a few familiar British TV stars among them.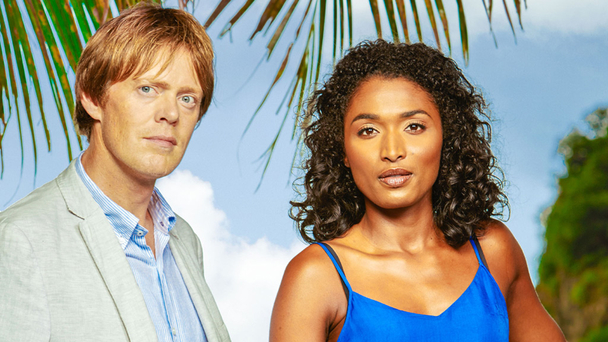 Death in Paradise,
a hit dramedy mystery series in the UK and many parts of the U.S., returns to BBC One in early 2014 (and hopefully stateside, too) with a stellar list of guest stars for its third series.
Top British TV talent Helen Baxendale (Cold Feet, An Unsuitable Job for a Woman), Peter Davison (Doctor Who, The Last Detective) and Michelle Ryan (Jekyll, Merlin) will be joining Kris Marshall (My Family, Murder City), who himself joins the regular cast members as the new lead detective following the departure of Ben Miller.
Filming of the third series of Death in Paradise is already underway on the Caribbean island of Guadeloupe, and Michelle Ryan had this to say about her role on the hit series:
"It's very exciting to be a part of this excellent series. I play an actress who is quite a handful with a dark past. The action element is always appealing for me and getting to film on the gorgeous Island of Guadeloupe was incredible. We had so much fun!"
Other artists joining the long line of guest stars to feature in Series Three include Raza Jaffrey (Smash), Sophie Thompson (Lightfields), Adrian Scarborough (Gavin & Stacey), Hannah Tointon (The Hour), Daniel Lapaine (Black Mirror), Kathryn Drysdale (Two Pints Of Lager And A Packet Of Crisps), Sophie Colquhoun (Plebs), Clarke Peters (The Wire), Tristan Gemmill (Casualty), Mark Bazeley (The Queen), Tim Dutton (The Bourne Identity), and Haydn Gwynne (Rome).
Reaching ratings of up to 8 million viewers on BBC One earlier this year, Death in Paradise
follows the detective team on the fictional Caribbean island of Saint-Marie as they investigate the most intriguing and dastardly of murders. The team must use their skills to uncover the truth behind the island's complex crimes.
Belinda Campbell, Executive Producer for Red Planet Pictures commented:
"We're thrilled to have another fantastic list of talented guest stars involved for the third series of Death In Paradise. We're very lucky to have such gifted actors and actresses to accompany our equally brilliant regular cast in bringing the twists and turns on the intricate mysteries to life. Hopefully the new series will help bring some Caribbean sunshine to the UK during the cold and rainy winter months!"
Death in Paradise is a Red Planet Pictures production in association with BBC Worldwide, produced with the support of the region of Guadeloupe.
—————————
Death in Paradise: Series 3 Guest Stars Announced