The Fall season on PBS starts in a little more than two weeks and it looks to be another great one, with the U.S. premieres of Wallander III, Call the Midwife, and Upstairs, Downstairs: Season 2 in September and October.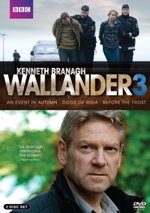 Wallender III
First up is Kenneth Branagh returning to Masterpiece Mystery as the brooding Swedish detective Kurt Wallander in Wallander III, the third series based on the Wallander novels by Henning Mankell.
Wallander now has a new home and a new relationship, plus three new cases. In An Event in Autumn, one dead girl's body washes ashore and another is found in Wallander's garden. Are their deaths connected, and if yes, how? Then there is the double-homicide case that opens The Dogs of Riga, which takes Wallander from Ystad, Sweden to Riga, Latvia during his investigation of the deaths and corruption. Lastly, there's murder, the sudden appearance and disappearance of his daughter's friend, religious fanaticism, and more deaths in Before the Frost.
Scenes from Wallander III are interspersed in this interview with Kenneth Branagh, who was nominated for an Emmy (2009) and Golden Globe (2010), and won a BAFTA TV Award (Best Actor, 2010), for his portrayal of Wallander. The program also won the BAFTA TV Award for Best Drama Series in 2009.
Wallander III premieres on Sunday, September 9, with An Event in Autumn, followed by The Dogs of Riga on September 16 and Before the Frost on September 23. Check your local listings for times.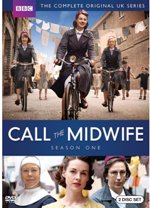 Call the Midwife
Call the Midwife, the highest-rated drama debut in BBC history, premieres on PBS on Sunday, September 30. (Check your local listings for times.) This moving, intimate, and true-to-life series about midwifery in London's East End in the 1950's is based on the best-selling memoirs of Jennifer Worth.The six-part series follows Jenny Lee as she and her fellow midwives, who are attached to an order of nursing nuns, navigate the crowded East End streets teeming with workers, children, and a culture that is vastly different from the wealthy English countryside where she was raised. Initially shocked by the living conditions of the East End, Jenny grows to admire the families with whom she works.
Call the Midwife stars Jessica Raine as Jenny Lee, Jenny Agutter (MI-5) as Sister Julienne, Pam Ferris (Rosemary & Thyme) as Sister Evangelina, Miranda Hart (Miranda) as Chummy, Judy Parfitt (Little Dorrit) as Sister Monica Joan, Helen George (The Three Musketeers) as Trixie Franklin, Bryony Hannah (Above Suspicion) as Cynthia Miller, Laura Main (Murder City) as Sister Bernadette, and Cliff Parisi (EastEnders) as Fred. Vanessa Redgrave provides the voice of the mature Jennifer.
Executive producer Pippa Harris said, "Call the Midwife has excited the imagination of viewers in the UK and I am confident it will do the same in the US. Heidi Thomas' witty and emotional scripts have perfectly captured a unique snapshot of British history, but the universal themes of childbirth, nursing and parenthood ring true throughout the world."Call the Midwife is the lead-in program to Upstairs, Downstairs: Season 2.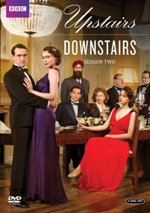 Upstairs, Downstairs: Season 2
Upstairs, Downstairs: Season 2, the latest series in the Masterpiece Classic franchise, premieres on PBS on October 7, in the time slot directly following Call the Midwife. (Check your local listings for details.). In this six-part sequel that begins in 1938, Lady Agnes has a second child, there are new nursery and kitchen maids downstairs, and a new family member arrives upstairs — all amid the growing fear of war with Germany.
Ed Stoppard (Zen) and Keeley Hawes (Identity) are joined by new cast members Alex Kingston (Doctor Who), Laura Haddock (How Not to Live Your Life), and Ami Metcalf (Doctors).
Have a fab weekend!
—————————
Coming Soon: Premieres of Wallander III, Call the Midwife, and Upstairs, Downstairs: Season 2